FR STEPHEN BLOOR, RECTOR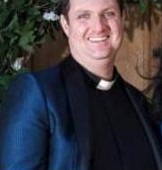 Fr Stephen came to Christ Church in February 2021 with ministry experience in Parishes in Adelaide and the Central Coast in New South Wales.  His passions include Christian leadership, coaching and seeing people grow in their faith and apply it to their daily lives.
FATHER FRANK KERNOT
Fr Frank Kernot trained at St Barnabas' College (South Australia) and came to Christ Church in 2010. As priest in charge of pastoral care, he plays an active role in hospital visiting, home communions and leading the prayer group.
_____________________________________________________________________________
Music
MR ANDREW GEORG
Organist & Choir Director
Andrew is a versatile musician whose career encompasses church music, opera, choral music, and accompanying. He studied at the Elder Conservatorium of Music, and was an Organ Scholar at St Peter's Cathedral and Pilgrim Church, Adelaide. He also works as a repetiteur for the State Opera of South Australia.
_____________________________________________________________________________
Wardens
DR MARK GRYST
Priest's Warden
MR NEIL WOOLMAN
People's Warden
_____________________________________________________________________________
Office Staff
MRS ILIANA FORERO
Parish Office Administrator
DR CLAIRE BLOOR
Parish Libarian Archivist